1. Introduction of Hydraulic Oil Press Machine
It is a new designed machine, based on the abroad and home similar products. The machine is specialized in processing the high oil content oilseeds, such as sesame, walnuts, almonds, peanut, flax etc.
Features:
1. Easy to operate;
2. High oil yield;
3. It can finish processing 6~8kgs material within 8~10 minutes;
4. Installation and training covered in China.
5. This machine presses the fried seeds in the barrel, it's easy to operate, and you can get fragrant edible oil directly. It just takes several minutes to get the healthy product oil.
2. Technological parameters:
| | |
| --- | --- |
| Model | 6YY-230 |
| Type | Vertical hydraulic |
| Processing situation | 1 worker, 10 ㎡ plant |
| Capacity | 35-50kg/h |
| Specifications (L*W*H: mm) | 900*850*1550 |
| Weight | 1T |
| PN(MPa) | 200T~210T |
| Max working pressure | 50MPa |
| Diameter of piston | 230mm |
| Unit loading weight | 6-8kg |
| Electric heating coil temperature control | 70-100℃ |
| Motor type and power | Y901-4-1.5KW |
| Heater power | 2KW |
| Heating time | 15~20minutes |
| Voltage | 220-380V |

3. The main parts and features: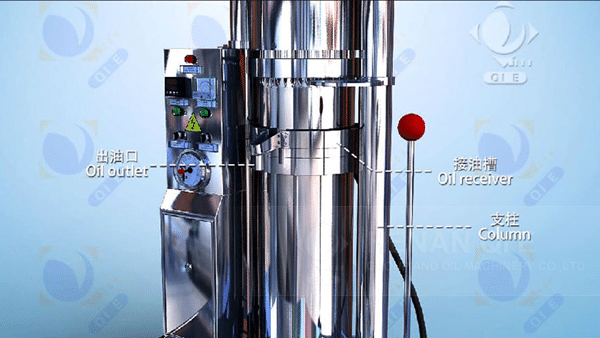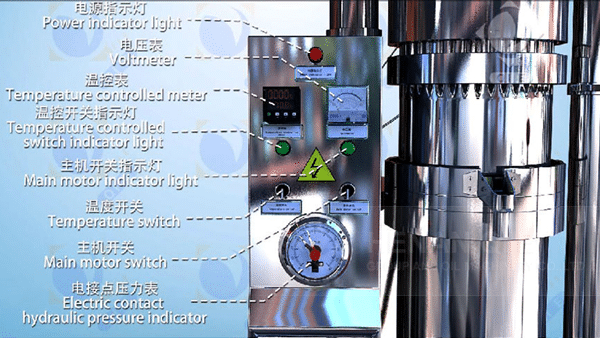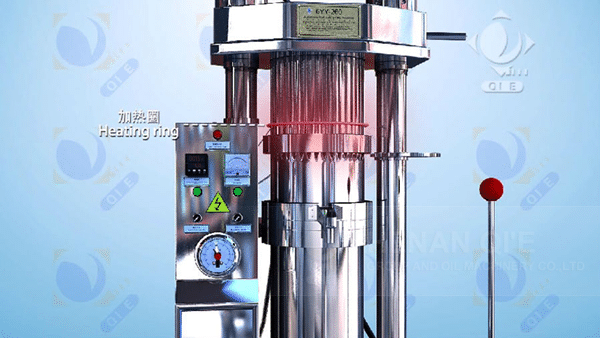 <1>Main parts:
Transmission case, Hydraulic pressure cylinder, Piston, Column, Mobile top, Foundation, Raw material cylinder, Switch box, Pressure gage, Automatic temperature control device, etc. It's made of superior metal materials such as 45 steel and 27SiMn steel casting die, so it lengthen the machine life-time and performance.
Material of main parts:
Oil cylinder, Piston, and Feed cylinder: 27SiMn steel casting die;
Column, Top, Foundation: 45 steel;
Cylinder cover and bottom, piston bottom: 27SiMn steel casting die
<2> Hydraulic transmission components:
Main hydraulic transmission parts: Driving worm, Worm gear, Bent axle, High-pressure pump, Gear pump, One-way valve, Hydraulic cylinder, Hydraulic tube, etc.
Our company also improved the Hydraulic triplex plunger pump, combining the domestic and abroad advanced technology.
Features:high efficiency, high pressure, steady upper pressure, high oil yield, resist to high temperature, continuable working.
It's well-loved by customers once it's put into market.
<3>Performance and features of main parts of hydraulic double cylinder:
Cylinder is made up of Hydraulic cylinder body, Piston, Cylinder gland, Inner hexangular screw, Oil seal (made from imported polyurethane material, resist to high temperature, and resist to high pressure and anti-friction, long service life)
Features:
The oil pump pumps hydraulic oil into the cylinder, so it makes the piston go up quickly as well as goes down; short running time, high efficiency, high automation; no need to worry about non-falling cylinder issue etc; easy to operate, time efficiency, high retribution.
4. Machines in Qi'e Customers' factory:
We also have other model, 6YY-240, 6YY-260, 6YY-320, it is professinal to press the sesame, peanut, walnut kernel, almond, fax pine nuts, cocoa mass, perilla seed, semen nigellae and other oilseeds. Please contact us if you are interest to our machine.